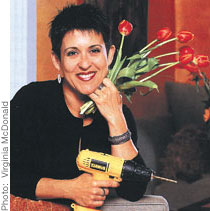 Internationally recognized home staging expert Debra Gould is president of Six Elements and creator of The Staging Diva Home Staging Business Training Program with 700+ Graduates worldwide. She is the author of Staging Diva Ultimate Color Guide: The Easy Way to Pick colors for Home Staging Projects, and Staging Diva Ultimate Guide: Creating The Perfect Portfolio to Sell Your Home Staging Services.
Debra also offers a Directory of Home Stagers to help homeowners and real estate agents locate home stagers who will decorate homes to sell quickly and for top dollar.
Entrepreneur Magazine identified home staging as one of the hottest growth businesses in 2006. And, The Staging Diva® Home Staging Program is the only home staging business opportunity recognized by Entrepreneur Magazine in all their 2006, 2007 and 2008 Be Your Own Boss and Business Start Ups Guides.
Debra has gained international recognition and has been featured in major media in the US and Canada including: HGTV, CNN Money, CBC National News, CBS Radio, GlobalTV, CityTV, The Wall Street Journal, Woman's Day, Reader's Digest and more.