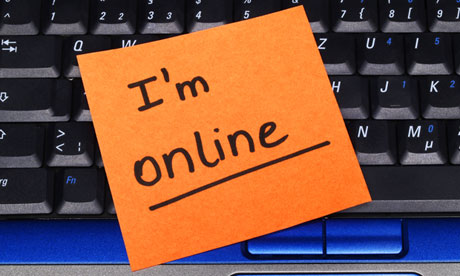 (Image courtesy: http://static.guim.co.uk/sys-images/Guardian/Pix/pictures/2012/11/27/1354030427030/Im-online-note-on-a-keybo-010.jpg)

Living in the 21st century comes with its own set of challenges and troubleshooters. In the fast-paced world that we live in (it's only going to speed up further), life can become extremely complicated and time is something that becomes of the essence. However, with the help of certain technological resources, things can get simpler.

With the advent of technology in the world of real estate, we find ourselves doing the kind of things that we once thought only the experts could handle. Striking the perfect real estate deal, buying and selling property using technological tools and apps has become as easy as your everyday online shopping. It's fast, convenient and saves you a lot of time and energy.


(Image courtesy: http://www.yourmarkhamrealestate.com/account/2952be8b2e4860d5/pages/77587_1.jpg)

The increase in the utilization of such tools and apps seems to be a positive trend, what with confidentiality and transparency of information being maintained in accordance with how the user wants to manage it. It's almost 2014 and if you're not already using technology to market your saleable property online, then now is the time to change that.

Whether it is a home you want to sell or a piece of land you want to list or even a commercial property that you want to put up on rent, the focus needs to be on getting your property enough visibility to prospective buyers to maximize your chances of a lucrative sale. Read on to know more about how you can correctly harness the power of internet for doing so and taking correct and informed decisions to sell your property directly:


(Image courtesy: http://www.realestatemarketingblog.org/wp-content/uploads/2010/04/single-property-website.jpg)

There are numerous reasons as to why you should be using the internet to buy/sell your property. For starters, the need of hiring an agent gets completely nullified, which allows you to direct all your savings toward buying the property of your dreams without worrying about paying a commission. Property portals have no vested interest in the final selling price. There's just a nominal fee that is required to be paid, the amount of which is fixed, the final selling price notwithstanding.

Who would be able to describe your property better than you yourself? It is you who gets to explain the ins and outs of your property to potential buyers in the most convincing and transparent manner by putting up photographs and videos for virtual tours of your property on the website to make it more attractive and convincing. Here are a few ideas as to how you can set the ball rolling for yourself:

Social media

Social media like Facebook, Twitter etc. is one of the most used and abused platforms in today's times. If correctly utilized, it can take your message far and wide and strike the right chord with your target audience. Conversely, it can majorly backfire if you seem like you're trying too hard.

Many sellers make the mistake of imposing their listing too apparently, in a very in-your-face kind of fashion on this lighthearted medium. This can be very off-putting to potential buyers and they could just blacklist you from their consideration set (or simply unfriend you). It is important to make your potential buyer feel like he's wouldn't just be doing business with you, but also developing a healthy relationship based on trust. So try to first focus on building a relationship with your target audience and then make your move.


(Image courtesy: http://files.blackoakmarketing.webnode.com/200000000-399f13b402/Social-Media.png)

Advertising

Yes, you can advertise your property online. You can be selective of your target audience and accordingly place an ad to target them. You could advertise on the major property portals, real estate search engines, by placing ads on social networking websites, informative blogs or news portals.

Website

Build your own website if that's possible for you. It will be a time consuming process to build it and attract relevant traffic to it but once that problem is out of the way, the advantage of this is that you would be in control of the content that you want to have or remove. Put up information about your property along with a few photographs and/or videos and the price that you're expecting and invite questions from interested buyers and comments from experts as well. The number of hits, queries and comments on your website should give you a good idea about it's reach and the popularity of your property.

Blogs & Email

If you're finding it difficult to build a website and still wish to connect to prospective buyers on a more one-on-one basis, you could start a blog about it. Again, a time consuming process, this is a great relationship building technique in the long run. This is also a great way to get your readers to get hooked on to your listings. You could ask them to leave their queries and comments on your blog and when they do so, be sure to send across a quick response. You could also ask them to mention their email IDs along with their posts so that you can create a mailing list of interested parties and send them notifications and reminders about your ad via email.

Videos

Make an informative home-styled video and post it on websites like YouTube or Dailymotion. Make it look like a 360 degrees virtual tour. This is a quick way to capture the interest of your target audience, especially those who do not like to read. Make the video interesting with sights and sounds of not just your own property but extend it to the environment around it like your garage, neighborhood, places of interest, parks in the vicinity etc. The number of likes/dislikes on your video will give you a fair idea of its popularity and the value that you can attach to it thereby helping you understand if you're pricing it appropriately.


(Image courtesy: http://www.lakeshorebranding.com/wp-content/uploads/2011/12/chicago-social-media-marketing.png)

With the most crucial of the facilities around the world going virtual in this Information Age, it makes sense for you to arm yourself with enough knowledge and technical know-how to be able to make the most of it and get the best desired outcome. It's not as complex as you think it is and just needs a bit of getting used to. Finally, all I can say is - Welcome to the future!


(Image courtesy:http://boomingbroker.com/wp-content/uploads/2011/10/How-To-Market-Real-Estate-2-300x273.jpg)